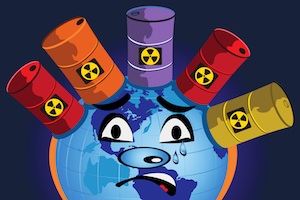 Old cell phones in Argentina are currently being replaced after an average of just two years of use. The country has a population of 40 million, with more than half of those, 34.4 million people, cell phone subscribers. Add to those figures the cell phone numbers that have not been cancelled, even though they are no longer being used, and that figure rises to 56 million, according to the Argentina branch of environmental organization Greenpeace.
The rise in sales of cell phones over the course of the last five years has created increasing worry about the volume of toxic substances that is released when the electronic devices are just disposed of alongside everyday household waste.
Around 40 percent of the public in Argentina are aware of the toxic pollution from old cell phones problem, according to Greenpeace Argentina activist Yanina Rullo, and most keep them at home, although another 30 percent just throw them away with ordinary rubbish and they end up in dumps or landfills. The Argentine Congress is currently studying a bill, which is being heavily supported by Greenpeace, on the management of electronic equipment and electrical waste. The draft bill has already been passed by the Senate, and it would make the companies that put them on the market responsible for the recycling or safe disposal.
Greenpeace Argentina says that just last year around 12 million cell phones were sold in the country, together with 2.6 million computers, 1.2 million printers and 1 million television sets.