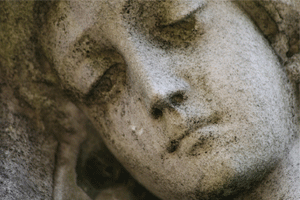 In 's-Hertogenbosch, North Brabant, Netherlands at St. John's Cathedral, a 12-year restoration project has come to an end. Among the many restored and cleaned statues sits an angel holding a cell phone to her ear. The phone has only one button; after all, the artist says, she only needs to phone God.
St. John's Cathedral is what is known as a Kanjermonument; which, when loosely translated to English, means "whopper monument". Construction on the cathedral began in 1220 and lasted for over 200 years, during which the building was built and then expanded to include a transept and choir. It was during the expansion that the church acquired its gothic theme.
For the past 12 years, St. John's has been all but hidden behind scaffolding as a major restoration project was underway. This is the second restoration the building has gone under in the past 12 years, but this time, the restorers hope to make their work last for at least another 50 years.
The angel is the brainchild of sculptor Tony Mooy from Amersfoort, who has contributed 25 new angels to the cathedral. In addition to her cell phone, the most modern of his angels is also wearing jeans.
While most of the decorative elements are what we would expect in a church of this age, the angel with a cell phone isn't the only modern addition to the cathedral. Etched into a stained glass window that depicts scenes from hell is an image of 9-11 and the Twin Tower attack.