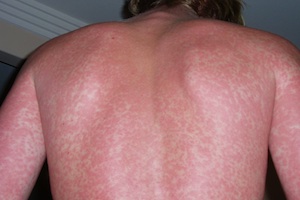 With more and more people increasingly reliant on their cell phones, allergists are seeing a sharp increase in face rashes, which have been triggered by the cobalt and nickel used in the manufacture of the devices. In a brand new study, researchers tested both new and old cell phones in a bid to try to come up with solutions to the issue.
For people who are allergic to some metals, the symptoms can include blistering, lesions, redness, dry itchy pitches on the ears or face, and occasionally even oozing. The study found that almost two thirds of Blackberry cell phones that were tested were found to contain nickel, with 90 percent of flip phones containing it, and more than 50 percent of flip phones also containing cobalt.
The good news however is that none of the Android or iPhones tested were found to contain either metal, according to researcher Dr Luz Fonacier from Winthrop University Hospital in Mineola in New York, as well as State University of New York in Stony Brook. Among the few Blackberry devices to be free of the two metals were the Blackberry Curve and the Blackberry Touch.
"In those phones that looked like the keypad had a lot of wear and tear, they were more likely to test positive for nickel," says Fonacier. "In the Blackberries, the nickel was found mostly on the keypads."
The solution for Blackberry users would to be to use either a wireless earpiece or a plastic cover on the phone.