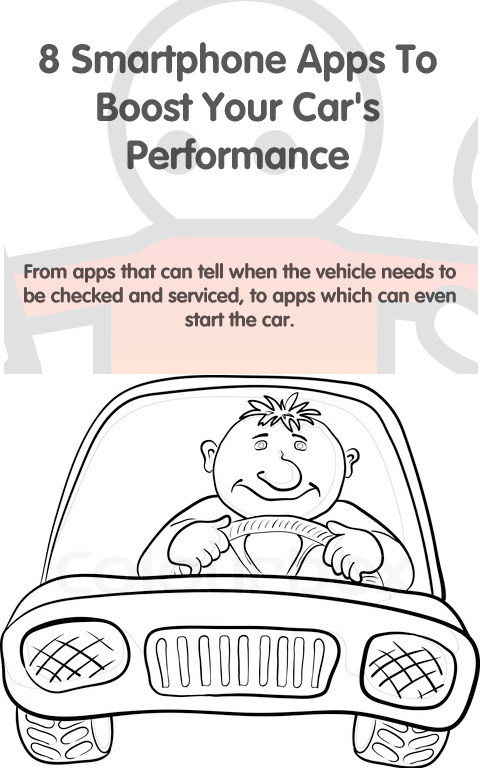 A lot of people do not understand and realize that there are countless apps planned to make life easier for you and your car.
Starting from apps that can tell when the vehicle needs to be checked and serviced, to apps which can even start the car, there are too many apps that people probably don't know about. Well, we are here to put your smart phone to work for you diagnosing your vehicle and assist you in picking up ones that your vehicle will thank you for.
aCar
It is a free app that allows you to track the car's maintenance and repair schedule along with the mileage along with details of the vehicle like the license number, the type, the model etc.
Car Trouble
Car Trouble is a free app that lets you diagnose any kind of car concerns that you might be having. It lets you examine the issue on the basis of the trouble that your car is having and then provides you with a solution by giving a step wise walkthrough on how to deal with the problem and solve it. Failing that, if your car is beyond reapir you can always looks for used cars at local dealerships and car supermarkets.
Triple a Roadside
This is a free of cost app. It is easy to relax with this app as you know that it will under no circumstances let you wait for any kind of roadside assistance. This app provides you with a list of all the certified Triple A certified repair workshops near you.
Car Spotter
It helps you identify your car in the supermarket parking lot! This app helps you to find your car instead of aimlessly looking for it. It costs 99 cents and saves the position of the car with the use of GPS. You just have to follow the visuals and directions, and it will take you directly to your car.
ViperSmart
This comes with a yearly subscription charge of $29.99. Out in the cold? Would you like to get into a warm car? The answer is ViperSmart. This app has the ability to remotely start the car to solve this issue. However, you must install the Viper alarm system in your car in advance.
Car Care & Roadside Assistance
This app comes with a cost of 99 cents but is very informative and useful. This app gives you an insight and can help you learn things like how to deal with a flat tire, or in what manner you should handle an overheated engine.
iWrecked
iWrecked is a free app which is a savior in disguise. Nobody would want to crash or meet with an accident but this free app assists you by helping you access a lot of things in case you meet with a casualty. It guides you on how to handle the situation properly.
Trapster
This is a free app that helps you check any kind of police setups, street hazards, and it also alerts you of any police force, well in advance.
If you correctly use these various apps, your vehicle will express gratitude to you in the end.