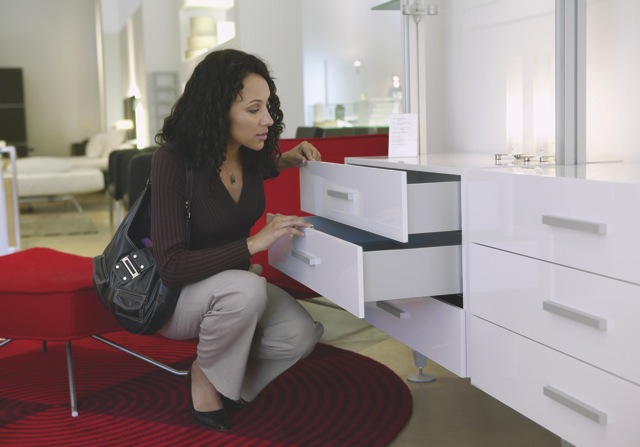 When most people shop for their next set of furniture, the expense adds up quickly. Furnishing an entire room is often upwards of $1,000, an amount that puts a hefty dent in most budgets. If you want to find quality furniture, without cutting corners, there are five frugal furniture shopping tips that will help you get the most bang for your buck.
Secret #1: Buy it In Bulk
Wholesale furniture outlets, discount stores and even Costco or Sam's club offer hefty discounts when consumers buy furniture in bulk or as a complete set. While some consumers think it is wise to buy furniture one piece at a time in order to save their pennies, the little extra upfront cost of bulk buying saves hundreds (if not thousands) of dollars on furniture purchases.
Secret #2: Use the Internet
Websites like Freecycle, Craigslist and other consumer-based sales sites can lead to great frugal furniture finds. While the furniture you get on these sites will probably not be brand new, the savings can be substantial with a little shopping savvy. Many estate sales companies and even second hand furniture stores will advertise on these venues, leading to great finds for dimes on the dollar.
Secret #3: Leverage Your Credit
If you have decent credit, most wholesale, bulk buy and other furniture stores will offer you zero percent interest for up to 12 months – sometimes longer. If you don't have the money to spend on your new furniture up front, this can be a great way to prolong the payments without throwing money away on interest, while still taking advantage of the best deals. Budget for a yearlong payment plan, and stick to that budget in order to stay out of a furniture buying money pit.
Secret #4: Leverage Cash Back
There are several furniture sales websites that offer rewards points, discount points, loyalty programs and more. These can save you up to five percent on everything you buy from each online merchant, alongside getting free shipping in the process. If you leverage and combine programs like these with outside cash back rewards sites, programs or even cash back credit cards, you can oftentimes secure brand new furniture for a small portion of the original price.
Secret #5: Refinish and Resell
Hitting up garage sales, flea markets and estate sales are great ways to find furniture on the cheap. Even in the event that you find a piece that isn't quite your style, you can clean it up, refinish it and resell it online (or at your own garage sale) for a profit, helping you save up enough for the furniture you really want.
Buying furniture doesn't have to be an outlandish expense if you know where (and how) to shop for the best deals. Use these five frugal savings tips on your next purchase, and bask in the glory of frugal furnishings and money saving bliss.