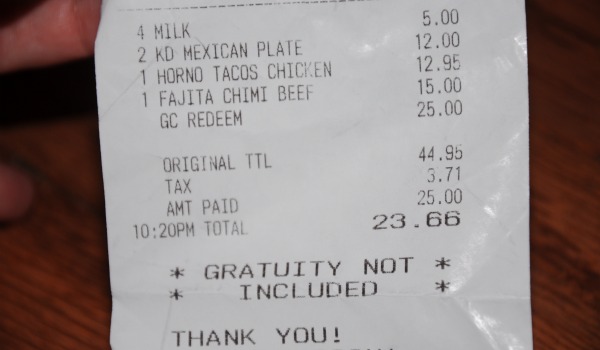 When you're out with your friends, one drink can quickly turn into five as the conversation flows along. When the check arrives, the situation can quickly turn awkward. Should you just split the check evenly, or does everyone have to pay for themselves? How do you decide how much everyone needs to contribute for the tip? These questions are relevant to things other than dinner with your friends. If you're living in a rented apartment, you will need to divide up the bills, utility costs and other expenses.
Instead of having to memorize how much money you owe someone for last week's dinner or rent, you can now use applications that do all the work for you. There are several iPhone apps, most of which cost less than a dollar, that save you the hassle of having to nag your roommate or your friend for their share of the payment. Let us take a look at some of these applications.
Billr
Billr is a simple, fast application with a beautiful interface that lets you divide up meal expenses easily. It allows you to divide the bill between a maximum of 16 people. You just enter the size of your party at the home screen, and the application takes you to a screen where you can begin entering individual items under the tab of the person who ordered them. By default, the application gives the tabs generic titles, so you might want to click on the header and enter the initials for your friends to identify them better. Once you've entered the items with their values under the name of the person who ordered them, the app automatically calculates the tax and tip. You can set the tax values according to your region, and the percentage tip based on what you think is fair.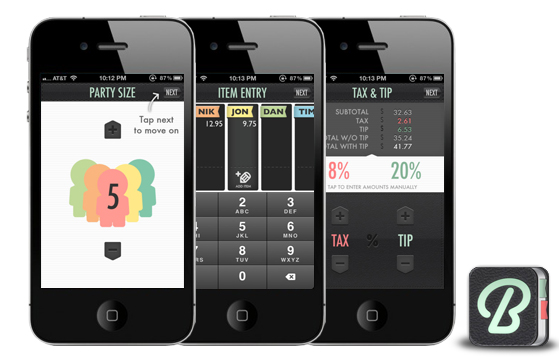 Once everyone has agreed that the values entered into the application are fair, you have the capability to send the bill as an SMS or an email to members of your party. This feature is especially useful if your job requires you to have a lot of corporate lunch meetings.
Splitwise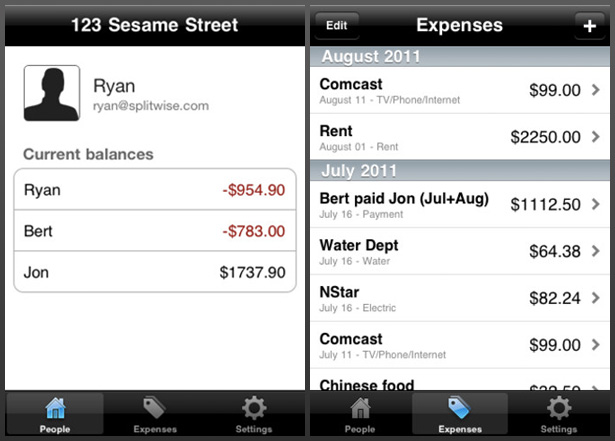 Splitwise is an application that allows you to track more than just dinner expenses. The app allows you to maintain a log of how much you owe and to whom. The application has an expense splitter module that can be used for meal payments as well as other things like rent sharing and even wagers, if you are so inclined. The application allows you to send funds via your PayPal account to settle your debts.
Divvy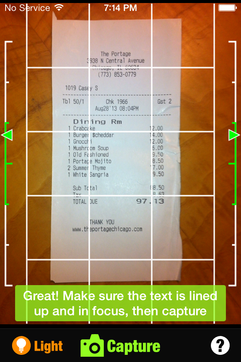 The most unique feature of Divvy is the way it approaches the whole check splitting situation. With this application, you don't even need to type names of individual items. You just click a picture of the receipt, and the application automatically identifies individual items and their values. Next, you click pictures of your guests, and then you can simply drag each item over the picture of the person who ordered it. Divvy will show you a list of what each person owes, inclusive of tax and tip. If you don't want to feel like an accountant when you're having lunch with your friends, this app might be the right choice for you.
SpotMe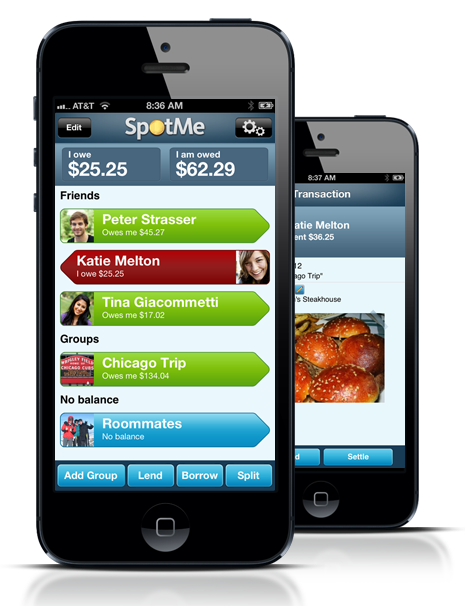 SpotMe is another nifty application that uses your phone's social networking features to provide you with reminders about payments that you need to make to your friends. The application syncs up with your Facebook profile and contact information to give you a visually pleasing interface for splitting bills. You can add your friends to groups and whenever a new bill needs to be settled, the application automatically sends emails to the relevant people.
GroupMe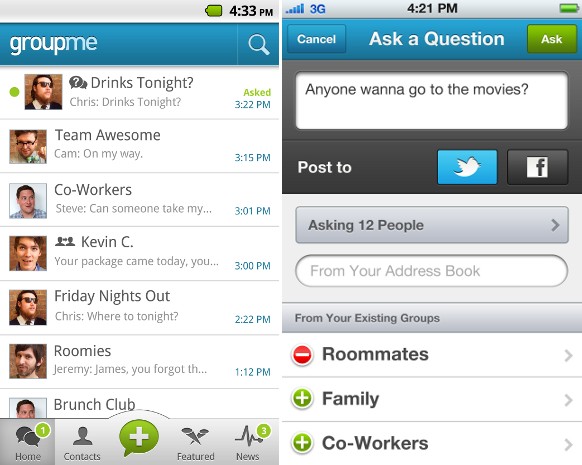 GroupMe approaches bill payments in a very interesting way. The application allows you to create events that require each person a specific fee to attend. For example, if you are planning a birthday party for someone, you might want everyone who's attending to chip in $10. The application allows you to create an event that will automatically charge each person who agrees to attend $10. In addition, you can also create an event that has a total cost that will be divided between all of the people who attend. For example, say you want to buy someone a gift that costs $100. For each person that agrees to contribute, the total cost will be split evenly. So if 4 people sign up, they'll each have to pay $25. The application makes payments seamless by integrating with your credit card or net banking portal.
So the next time you're wondering how much you need to pay for dinner, fire up one of these applications instead. They're easy to use, and make the process of splitting the check completely transparent.