Be it for holidays, or for business trips, or even for other purposes, air travel is an unavoidable aspect for millions of people around the globe. However, as convenient air travel may seem, it can prove to be an equally chaotic and hassling experience if you don't organize or plan your travel properly.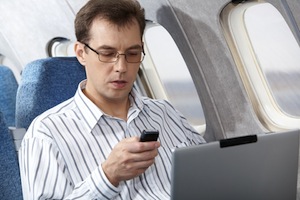 All those flight confirmations, emails, reservations, delays, documents, and what not, can make your life a living nightmare! Well, luckily enough, technology has you covered! What follows is a list of 5 convenient flight apps that will make your air-travel a breeze!
GateGuru
Did your flight just get delayed? Having a rather long stop-over at an unknown airport? Looking for something interesting to do while you're waiting at the airport? If yes, GateGuru is one cracking app that you should definitely check out. You can use GateGuru to have a look at important flight information such as check-in time, flight status, airport security wait time, as well as get alerts on gate number changes, changes in take-off time or arrival time, and so on. Most importantly, this app is equipped with an exhaustive database of airport amenities such as restaurants, cafes, souvenir shops, post boxes, stores, and what not! Overall, GateGuru is a perfect app to help you make the most out of your time at the airport.
FlightBoard
FlightBoard is a brilliant app that converts your smart phone into an arrival and departure board for more than 4,000 airports all around the globe, at the tap of your finger! With a gorgeous interface mimicking the board at Charles de Gaulle airport in Paris, the app lets you search for airports, airlines, or specific flights effortlessly. Moreover, the app gets updated every 5 minutes, so that you don't miss out on any important changes. With the help of this app, you can even go on to share flight information with friends and family via your favorite social networking portals.
TripIt
TripIt is another promising app that will come in extremely hand to you, especially if you are a frequent flier or a traveler. TripIt helps you organize your travel itinerary in the most systematic manner possible. It lets you forward all your important travel conformation emails to a TripIt address, where all your reservations, flight details and so on will be organized according to date and time. Why puzzle your brains by searching through 10 different confirmation emails, when you can have everything organized in a neat convenient folder, ready for you to access anytime, anywhere – just about perfect!
Skyscanner
When it comes to flight search apps, Skyscanner falls into different league alltoegther. Without a doubt, Skyscanner is one of the best flight search apps available in the market, giving its users a comprehensive database of over 1000 airlines. The app helps you compare between all these airlines and finds you the cheapest tickets available. Be it any flight, flying to any part of the world, Skyscanner won't let you down. Besides, the app also assists you in finding cheap hotel deals and car rental services. Available in more than 25 languages, Skyscanner is an ideal app that helps you bag the lowest fares – anytime, anywhere!
Airport Car Rental
As the name suggests, Airport Car Rental is one of the most efficient apps available in the market, when it comes to rental cars at airports. Located globally at almost all major airports, Airport Car Rental gives you a handy medium to rent a car – cheaper, faster and simpler than before! The apps easy-to-use interface allows you to put in your reservation requirements and you can then compare and contrast between different deals. You can even choose from a variety of vehicles, be it SUVs, luxury cars, economic cars, and so on. Once the booking is done, the reservation details are instantly sent to your email address – sweet!
Gary Hendricks is a travel blogger and a globe trotter who has recently cashed in on cheap airport parking in Brisbane and considers it as one the best services available in the whole of Australia. He also loves his music and often plays his guitar in his spare time.