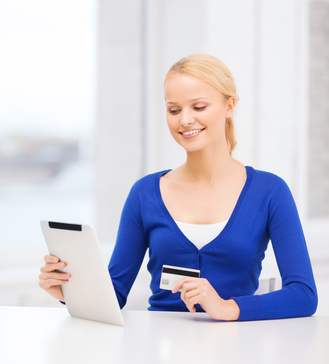 Mobile point of sale systems are catching on with more retailers. Javelin Strategy projects mobile proximity payments will reach $5.4 billion in volume by 2018. Mobile payment options provide many benefits for businesses of all sizes, whether you want to reduced lost sales or you need an affordable and portable POS.
Contactless Payments
Near-field communication technology allows a credit card with a NFC chip to communicate with a compatible piece of hardware, such as a POS or some smartphones. The credit card information is sent without putting it through a card reader, making it a convenient way to pay for purchases. The Smart Card Alliance reports the smart chips in a credit card control access to the information so only authorized uses are allowed. Contactless payments speed up the checkout process so your customers don't have to wait nearly as long in line.
Convention Convenience
Transporting an entire POS to conventions, trade shows, and other out-of-the-store vending opportunities is a hassle at best, and logistically impossible at worst. Mobile point of sale systems untether you from extensive hardware setups, making it simple to process credit cards at conventions. NetSuite has a mobile POS solution that provides a full range of features, such as emailing customer receipts, scanning barcodes, printing paper receipts, and providing hands-on customer service by allowing your cashiers to walk around with the customer during their purchasing decisions.
Dynamic Software
The mobile payment field is still beginning its journey into the mainstream market. Consumers have embraced smartphones and tablets for shopping purposes. Some 15 percent of ecommerce-based sales were conducted through mobile phones in 2013, reports eMarketer. As mobile payment options grow, vendors adapt to suit customer needs and the changing marketplace. Dynamic software allows you to keep up with the latest innovations without scrapping your entire POS in your store. A software or app update is all that separates you from mobile payments, allowing you to stay on top of technology trends without significant overhead.
Superior Customer Service
Your employees shouldn't be stuck behind a cash register while customers are on the sales floor. Instead of having roaming sales associates and cashiers at the register, provide mobile payment options to provide as much customer service as customers need to make the sale. In addition, you lessen the chance of a customer abandoning a sale as they walk to the cash register, which can be an issue in large retail stores.
In addition to quickly checking out a customer, mobile POS also allows you to easily input the customer's information, sign them up for rewards cards or store cards, and provides quick scanning and inventory lookup.