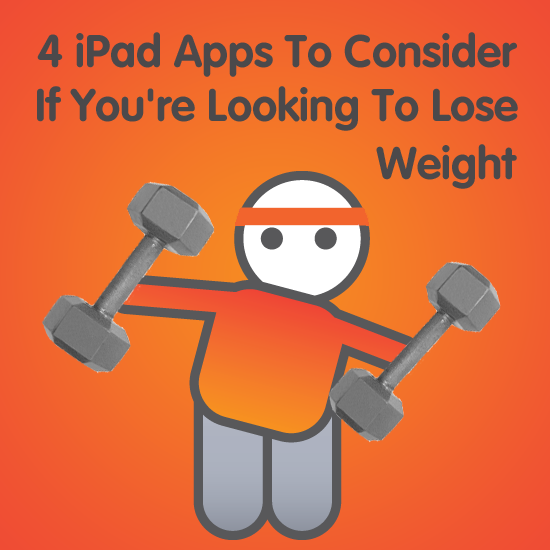 Want to surprise everyone with a perfectly toned body this summer? Feeling sad about the fact that none of your old denims fit you anymore? Well, worry not – your iPad has you covered!
Thanks to the progress of technology, you can now have access to millions of apps about anything and everything you can possibly think of. Following is a list of four awesome fitness apps you can arm your iPad with if you're looking to lose some weight.
Calorie Counter & Fitness Tracker
Calorie Counter & Fitness Tracker by MyFitnessPal is easily one of the best diet apps out there. The app has a brilliant interface which makes it easy to use and navigate. Catering to almost all your dieting needs, Calorie Counter & Fitness Tracker comes equipped with a nifty calorie counter which helps users stick to their daily calorie budget, without getting too tempted by fattening foods. The app also features an impressive food database flooded with over two million food items on it along with their nutritional value. So the next time you visit your supermarket, you will know exactly how nutritious the food items you pick up are. If you need more, use the app's neat barcode scanner lets you see what's lurking around in the food products that you buy, and also allows you to keep a count on the amount of calories you consume every day.
Fitness Buddy
If you're looking to lose some weight, maybe it's time for you to sweat it out by following a regular workout regime. In order to lose weight it is definitely crucial to keep an eye on what you're eating, but at the same time it is also important to exercise regularly and maintain a fit and healthy lifestyle. If you need some help with fitness exercises, Fitness Buddy is right up your alley. The app is home to more than 1700 amazing exercises and over a thousand helpful videos along with detailed instructions. Converting your iPad into your personal fitness trainer at the tap of a finger, Fitness Buddy further goes on to divide all the featured videos and exercises into search specific categories such shoulders, chest, lower body, back, arms, cardio, and so on. Depending on the area of your body you need to work on most, you can search for exercises accordingly. So whether you're looking to tone your thighs, flatten your tummy, or build your chest, check out this app for some ideal workout routines.
Endomondo Sports Tracker
If you find exercises and indoor workouts a tad boring, even outdoor workout is a great option to consider if you're looking to burn some of those extra fats. Why pay a bomb in going out and hiring a personal trainer when you can have your very own personal coach right inside your pocket? Your ultimate training companion, Endomondo Sports Tracker is an incredible app which is capable of tracking and monitoring a host of fun outdoor activities such as running, cycling, skiing, hiking, walking, and so on. This ingenious app makes use of your iPad's built-in GPS to track an array of workout aspects such as duration, speed, distance covered, heart rate, calories burnt, the route taken, and more. You can have your entire workout history saved to compare later. If that wasn't enough, the app also gives out an audio feedback every time you break a mile! So for all you fitness enthusiasts out there looking to take your workouts out and about, this is the app you need!
Fooducate
Regular workout and exercise definitely plays a central role if you're looking to lose weight and remain fit. However, fitness is also all about following Good Health Technology LLC eating habits along with a healthy lifestyle. This is the kind of approach Fooducate takes up in order to help you attain your objective of losing weight. As the name implies, Fooducate aims at educating its users about modifying their food habits. It gives you information about the food products that you pick up from the grocery store. The app is armed with a nifty barcode scanner which scans the food items that you buy and then highlights the attributes of each product on a health grade from A to F.
Thanks to this app, you'll not only make better and healthier choices at the supermarket, but you'll also come to know how nutritious and healthy the food items that you buy are.