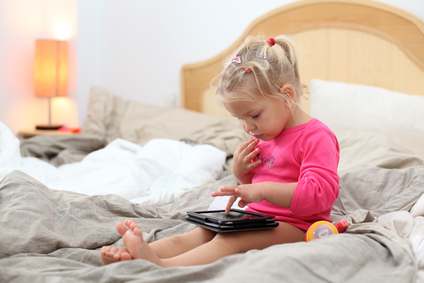 Although the American Academy of Pediatrics discourages "screen time" for babies under the age of two, it acknowledges a number of media programs designed for toddlers two years and older provide educational benefits. Television shows were once the media used to occupy and educate toddlers, but apps for tablets can now serve a similar function. Tablet use is on the rise in the US, as one third of adults own one, according to the Pew Internet and American Life Survey. Toddler-centric apps can help your little one learn the basics of life while having fun.
Sound Touch – $4.99
Flash cards have proven themselves to be an effective tool for learning, whether you're a college student memorizing Spanish verbs or a toddler learning the sounds different animals and objects make. The Sound Touch app, available for both Android devices, such as Lenovo or Samsung tablets, and iPad, describes itself as the most comprehensive flash card app available.
It features 360 pictures of vehicles, musical instruments and animals, as well as the sounds each item makes. Designed with a toddler in mind, the app only requires a child to tap the picture to make the sound. The app beats regular flash cards when it comes to ease of use. Parents don't have to worry about losing the cards or having a two-year-old confuse them with a midday snack. You may even download a free "lite" version to try it out.
Potty Time – Free
Toilet training is part of raising a toddler. Once your little one starts showing signs that he or she is ready to give up diapers and learn to use the toilet like a big kid, the Potty Time app, available for free on Android and iPad, can be a big help.
The Potty Time app is connected to the Potty Time video, which uses songs to help toddlers with toilet training. A key focus of the app is giving your little guy or girl prizes and awards as he or she makes progress. For example, Rachel, the host of the Potty Time video, can call your toddler to congratulate him or her.
The app also features a progress chart, which you can eventually print out and display on your wall or refrigerator, as well as a certificate when your toddler masters the art of toilet training. Also included are videos, a storybook and games to get your toddler excited about potty training. Consider the app a one-stop shop for all your toilet training needs.
My First Words – Free
Give your toddler a jump start on vocabulary building and reading with My First Words. There are actually two different versions of the app, one made for Android tablets by Teknowledge Software, and the other made for iPad by Alligator Apps.
The Android version features more than 300 words, more than it would be possible to comfortably hold with physical flashcards. The speed of the Android app is slow, to keep toddlers from tapping the tablet too quickly and missing words. Along with pictures identifying each object, the app includes animal sounds so that toddlers not only learn the names of animals, but also the sounds they make.
The iPad version includes 200 words but also gives parents the option of adding new words to the app. It also features matching games to help cement the meaning of words in a toddler's mind. For example, the screen will show several different items, then say the word and ask the toddler to point to the right item.