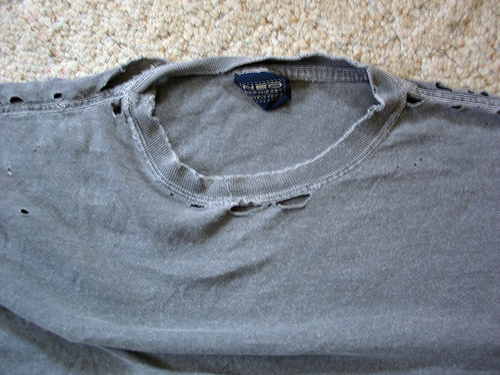 Are you a clothes hoarder? Chances are, if you're "into" clothes, you have a drawer or stretch of closet that's packed with t-shirts that you just don't wear anymore but can't bear to throw out. The good news is that you won't need to! Use these tips to get the most out of your tees, even if they aren't fit for public consumption any longer.
Upcycle Your Shirts
Love your tee and want to keep wearing it? Here are a few ideas to hide stains and rips and bring that beloved t-shirt back to life:
– Maybe it has a hole or two, or maybe there's a stubborn stain that just won't come out, but don't worry: there's no need to 86 that time-honored concert tee. There's a variety of projects that even novice sewing hobbyists can embrace:
– Take a page from classic punk rock jackets: cut out the logo and safety pin it at four corners onto another shirt. Use contrasting colors for added pop.
– Spray on some stars: don some safety goggles and gloves and fill a spray bottle with bleach. Take a dark-colored T-shirt and some stencils to a well-ventilated area and apply a few spritzes from your bleach bottle, either freehand or over stencils. Let dry, rinse well and enjoy the awesome star/outline effect!
– Slouch it out: ladies take note – a torn neck hem doesn't need to be the end of a favorite t-shirt. Remove the hem entirely, fold over some iron-on seam tape to conceal jagged edges (or not, as you prefer) and rock a new dolman-inspired top that bares your shoulders. This "fix" is great for warm summer weather!
Tees as Home Decor
If your favorite tee is just too far-gone in terms of style or physical state, you might want to take a different route to preserve the memories tied up in your favorite cotton t-shirts.
– A blanket of nostalgia: tutorials for creating a quilt of your old tees are readily available on most how-to craft sites. If you don't feel up to the task of snipping up individual tees and piecing together a quilt, never fear – there are services that will do it for you. A quick web search will likely turn up several that are willing to make your blanket for a nominal fee.
– Put a frame on it: if it was awesome enough to wear on your chest, why not give it a go on your walls? This t-shirt treatment is especially well-suited to concert tees, enabling them to be hung in a den or bedroom. If the folded shirt is too bulky, just cut a rectangle out of the front, slightly bigger than the frame you're trying to put it in – the single layer will fit much more easily.
– Catch some Zzzs with your tees: pillow shirts are another easy to find tutorial on the web, showing you how to make a cute throw pillow out of your favorite t-shirts. If you happen to be craft-impaired, you can also buy a ready-made pillow that allows you to simply fold your shirt around an inner "frame" and enjoy.
Sharing the Tee Love
Don't want to keep your tees anymore but balk at the idea of relegating them to the trash? There are a lot of bulk charities such as Goodwill that will take them from you, of course, but if you prefer your recycling a little more personal, here are some options:
– Cleaning up: there's good reason that t-shirts have an excellent track record as cleaning tools. The soft cloth won't scratch delicate surfaces, making torn-up tees excellent for polishing or buffing cars and wooden floors.
– Keeping you clean: if you're painting, hair-dyeing or otherwise putting yourself in a potentially messy situation, old tees are a great way to keep your skin or other clothes clean without frequent scrub-downs.
– Furry friends need them: ask at your local animal shelter or vet to see if they can use your old t-shirts. When sick or injured animals need to be treated or isolated, having some "throwaway" cloth on hand can make rehabilitating a lot more comfortable.
– Give them away: online classified ad sites like Craigslist typically have a "free" section that enables members to pass on useable things to people that want or need them. For safety's sake, be sure to meet in a public place to hand over your tees.
The simple t-shirt has a lot of life in it, even after it's seen a lot of love. With these tips, you'll be able to stretch this simple garment much further than cotton weaving would normally allow, getting a lot of use for your wardrobe buck. If you're tired of staring the same old tees in the face every day, shake them out and give them a new life beyond the bottom drawer.