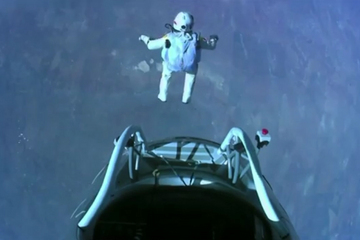 That's right ladies and gentlemen, we have discovered a new World Record which was made by Alex, a daredevil who plunged 4 inches to the floor in a jaw-dropping feat captured on TV.
This video comes off the back of this weekends events, when 8 million people tuned in to watched Felix Baumgartner set a new World Record for his highest free fall (125,000 feet or 24 miles) which started outside the Earth's atmosphere on the edge of space.
It really shows that no matter how much Red Bull someone drinks, that they will never be able to fly 24 miles from space to Earth, giving them the legendary status that Felix Baumgartner now holds.
The video for the shortest free fall if below. WARNING: If you are scared of heights, look away now!