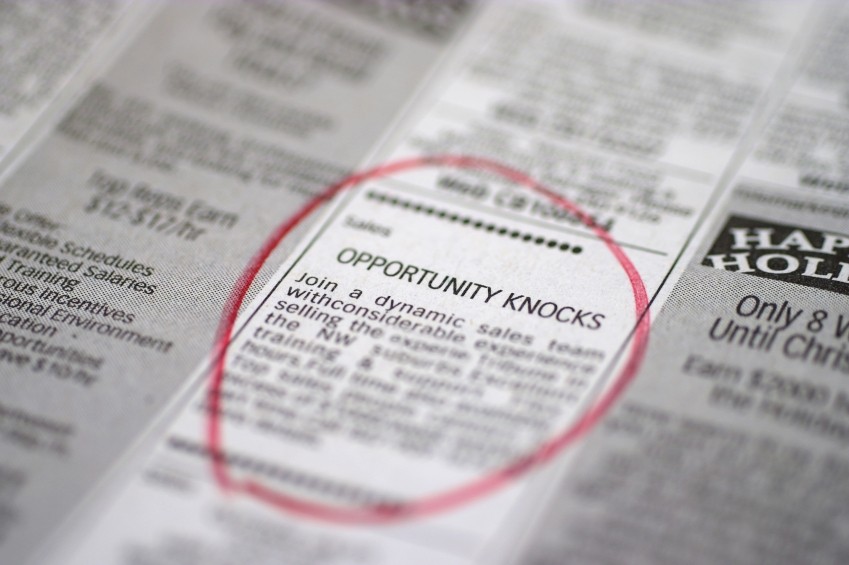 One of the biggest New Years Resolutions that people make is to search for a new job, so at SellCell we thought we would give you a head-start in finding that dream job with some of the best iPhone apps to help get the ball rolling.
There's no denying that the hunt for a new job can be tough. Whether you're currently unemployed or fed up with your current employment situation, it's difficult to constantly keep up with new job listings, submit your resume to hundreds of positions, and juggle both interviews and networking opportunities. The job search can occasionally feel like a very lonely experience, but you might be able to get assistance from an unexpected source–your iPhone. There are hundreds of iOS apps that are designed for job seekers like you, and they can help with every facet of your search.
Here are 12 apps you can turn to when you are on the hunt for a new position.
---
LinkedIn – Known as the best social network for professionals, LinkedIn allows you to create and customize a profile based on your work experience. You can make "connections" (similar to "friending" on Facebook) based on the people you have worked with in the past. Many recruiters and hiring managers will source candidates by searching LinkedIn profiles, so it's worth devoting a few hours to creating one when you start your job search.
---
Craigslist – Though it's also known for buying and selling used furniture or looking at apartment listings, Craigslist is a great way to find out about potential jobs. You can think of the app like an updated version of the classifieds section in a newspaper. Almost every employer has turned to Craigslist at one time or another to post job listings, so it's worth weeding through all the bogus ads to find the legitimate ones.
---
Jobs by CareerBuilder.com – The CareerBuilder.com website is known as an essential go-to for job posters. The app gives you instant access to more than 2 million jobs at any given time and allows you to submit your resume right from your phone.
---
Job Search by Indeed.com – Whereas some job boards require employers to post their listings straight to the site, Indeed.com aggregates job listings from other websites based on your criteria. The app can be a great place to look daily if you don't have time to check each individual job board.
---
Monster.com Jobs – Another major source for job listings, the Monster.com app lets you search for available positions and choose the resume and cover letter you'd like to submit. You can also save your jobs on the app and access them from a computer later.
---
Glassdoor – When you get an interview with a company you've never heard of, it can be a little scary. After all, you may not have any idea what types of questions you'll be asked, what salary you might be making, or whether employees are happy working there. Glassdoor answers all of these questions for you. Current/former employees are able to review the companies they've worked for, and you can use the app to find out common interview questions, salaries, and opinions about the company from people on the inside.
---
Snagajob – If you're looking for hourly employment–whether as a part-time job on the side or a full-time gig–Snagajob is a great resource. The database lists more than 300,000 available hourly positions, and you can filter them based on your schedule, preferred industry, and distance from home.
---
JobCompass – Working close to home might be important to you if you live somewhere with bad traffic or just don't want a long commute. JobCompass is a helpful app that maps out the open positions in your area. Set your acceptable locations, and the app will narrow down the ones that qualify.
---
BeKnown – Monster.com's answer to LinkedIn, the BeKnown app helps connect you with professional opportunities using your Facebook profile. You can harness the potential of your current network of friends and use the app to make new contacts.
---
Resume Designer – You probably know that your resume is supposed to be a fluid document–meaning you can and should alter some of the information depending on the type of position you are applying for. The Resume Designer app allows you to edit your resume on the go and then immediately email or print it straight from your iPhone.
---
Job Interview Question-Answer – Most job interviews have the same basic set of questions, so you will feel much more prepared for your meeting if you go over them in advance. The Job Interview Question-Answer app will ask you common interview questions and then record you answering them. You can go back and watch the video to figure out what you need to improve.
---
Clear – As you juggle interviews and offers, you might notice that your "to-do" list becomes overwhelming. The Clear app allows you to prioritize all the tasks at hand, and then it presents them to you in a visually appealing way so that you know what you need to get done urgently and what can wait. It could help you achieve that final step and land the job of your dreams.
---