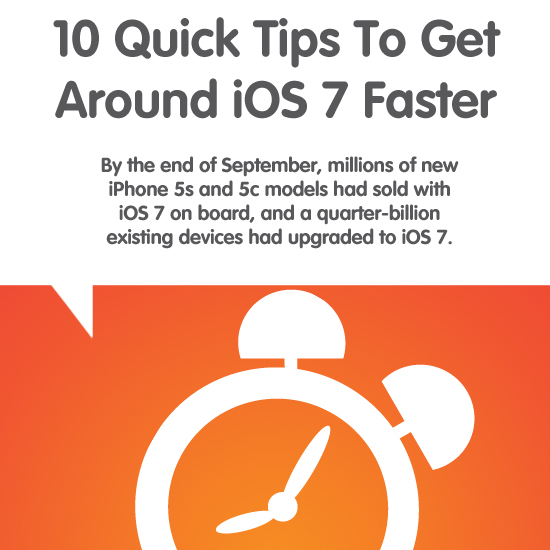 When iOS 7 first lauched in September, many reviewers and users expressed skepticism that it would be a meaningful update. By the end of September, though, millions of new iPhone 5s and 5c models had sold with iOS 7 on board and a quarter-billion existing devices had upgraded to iOS 7.
While iOS 7 doesn't have any banner features the way earlier versions did, it does have plenty of usability innovations. Here is a quick guide to help you get used to the new ways to use to get around your iPhone.
Editing your Notification Center
IOS 7 makes many changes to the Notification Center. To begin, you access it by touching the very top of your screen and pulling down. The Notification Center now groups your notifications into three different views – Today, Tomorrow and Missed. You can turn these options on or off by going to Settings under General and then tapping on Notification Center. Here, you get to edit your settings for Today Summary, Tomorrow Summary, Stocks, Reminders and so on.
The Control Center

Control center, which is a new feature on iOS 7, helps you get to a few essential settings without having to dig through a series of menus. To access the Control Center, you need to touch your finger to the bottom of your screen and swipe up. The Control Center offers quick access to your Bluetooth, screen brightness, Airplane Mode, screen orientation and sound level settings. If you need to access a few essential apps like the Calculator, Clock, Camera or the Flashlight, the Control Center has the shortcuts.
Search With an Easy Gesture
Up until the last version of iOS, you needed to swipe left through multiple menus to get to Spotlight Search. IOS7 makes accessing the search function much easier – wherever you are, you just need to swipe your finger down from the middle of the screen all the way to the bottom.
Customizing your Display
IOS 7 makes font size adjustments easier to access. You find the Text Size slider under Settings, General and Text Size. General has another text-related adjustment called Accessibility. Turning it on makes all text bolder and easier to read. Another accessibility feature allows you to control your screen with movements of your head. It's called Switch Control and it's found under Accessibility.
Automatically Update Apps

The App Store in iOS 7 has a new ability – it can keep track of your apps and update them automatically. To turn this ability on, you need to go to Settings, iTunes and App Store. On the bottom of the screen is an item called Automatic Downloads. You can turn on the switch in front of Updates to start automatic updates. The bottom of this screen has a thoughtful feature called Use Cellular Data. By default, updates are set to run only when you have Wi-Fi. If you want your updates to run even if you don't have Wi-Fi, you can toggle the switch to make the choice.
It isn't just app updates that you get to make Wi-Fi/cellular selections on. You can individually set which apps get to access cellular data in one convenient place, too. You simply go to Cellular under Settings and set the toggle switch in front of each app to Wi-Fi or Cellular.
Turn on Timestamps

It has been one of the most glaring practical shortcomings on earlier versions of iOS that individual messages in conversations had no timestamps. If you had a text message conversation with someone, there was no way that you could tell when any given part of the conversation happened. Everything was categorized under the timestamp of the first message in each conversation.
The new timestamp feature on iOS 7 fixes all of this. While your message conversations still look the same at first, you get to reveal all the timestamps, if you want. You just swipe from right to left on the screen.
Block Someone

Ever had a telemarketer or a persistent ex call you nonstop? It's easy to block nuisance calls on iOS 7. You just have to go to the Blocked page under Settings and Phone. No one on this list is able to call you through FaceTime, text messages or phone calls.
Mail Search is Much Better
Searching on the Mail app in earlier versions of iOS was buggy. Sometimes, it would ask you to Continue search on server, but then give you no results. Whatever improvements they've made on Mail search on iOS 7, it is now reliable. It does come up with all the results there are to find.
New Gesture For Closing Apps
On earlier versions of iOS, if you wanted to close an open app on the bottom row of your screen, you could just hold down on it until it came up with the cross to tap. Now, if you hold down on one, it just opens. How do you close one of these apps?
You have a new gesture for this – you double-tap on the Home button and then swipe up on the app's card.
Easier To Search For Content

Before, searching for content required scrolling all the way to the left. Now, you simply need to swipe down with one finger at any place on your screen.