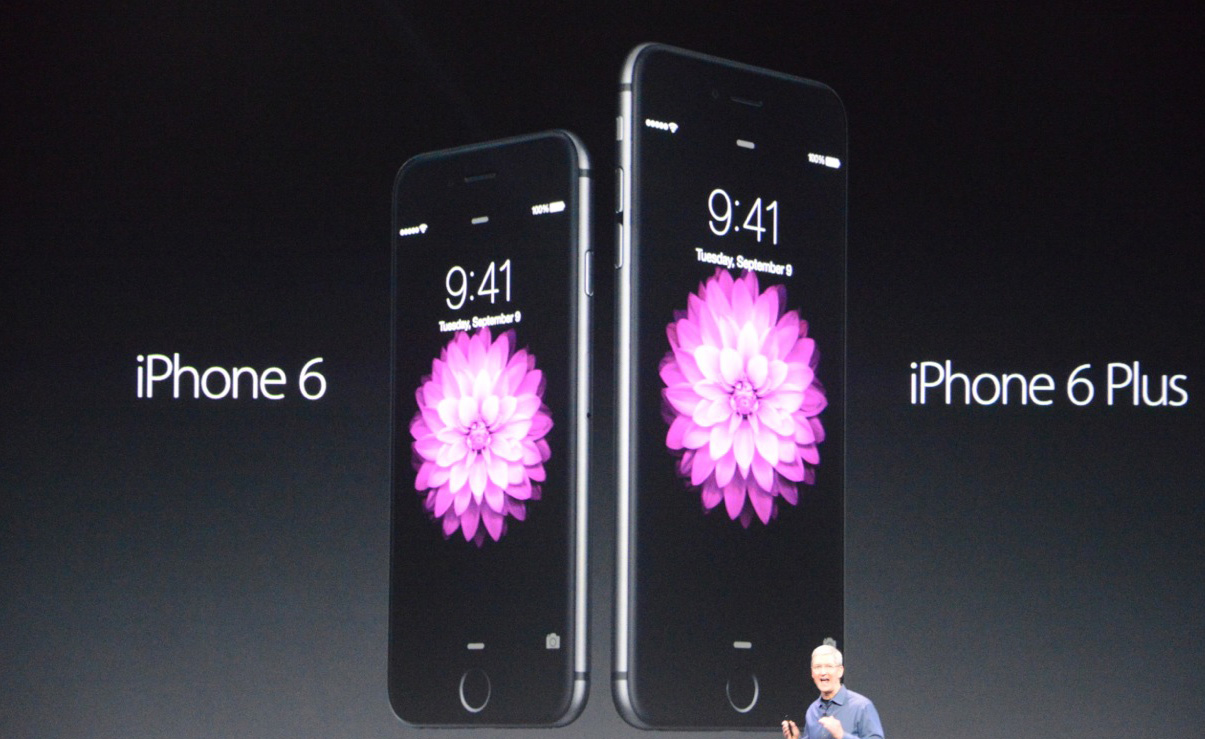 This morning we saw Apple unveil two brand new iPhone models each in a different size, they were the iPhone 6 and the iPhone 6 Plus. However, to everyone's surprise they also unveiled a Smartwatch or three! Let's tell you a little bit more about what happened.
iPhone 6 & iPhone 6 Plus
The images of the iPhone 6 looked exactly like the ones that we posted about yesterday in our leaked photos article, and one of the biggest physical differences is that the power button has been shifted from the top to the side, so it can be reached a lot easier.
Apple A8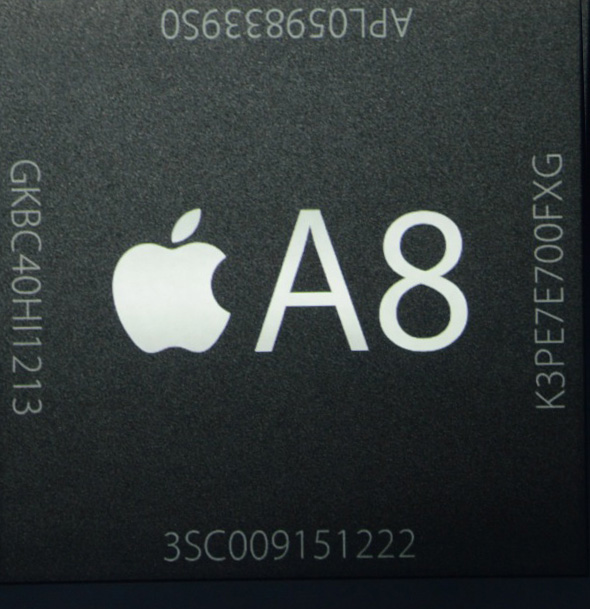 The iPhone 6 and iPhone 6 Plus both contain a brand new processing chip which, guess what? has been called the A8. This new chip is a 64-bit processor that is 13% smaller than the A7 from last year. The A8 is said to have a 20% faster CPU, and boast 50% faster graphics than the first ever iPhone which was launched 7 years ago.
The phone was reported to be thin and let me tell you guys, it really is thin, the iPhone 6 is 6.8mm thin and the Plus is 7.1mm thin. The A8 is able to sustain performance-intensive tasks, like playing a game at higher frame rates.
Screen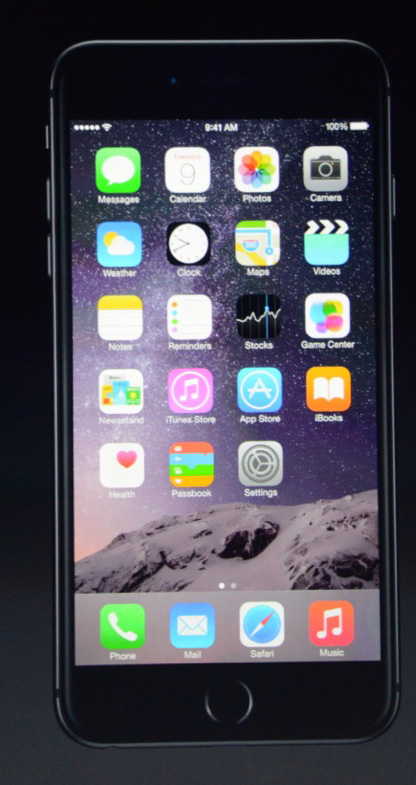 Measuring 4.7″ you can expect a resolution of 1334 x 750, and with a new landscape view you can see even more content that you normally would be able to with iPhone 6. The keyboard in landscape mode is also bigger offering more functionality, so built-in apps such as Messages look so sleek and smooth. Any app that isn't currently compatible with iPhone 6 or 6 Plus will just scale up as well.
The iPhone 6 Plus boasts a 5.5″ screen and runs at a resolution of 1920 x 1080. The 6 Plus has 185% more pixels than the iPhone 5S so you just know this bigger phone will pack a punch.
Battery Life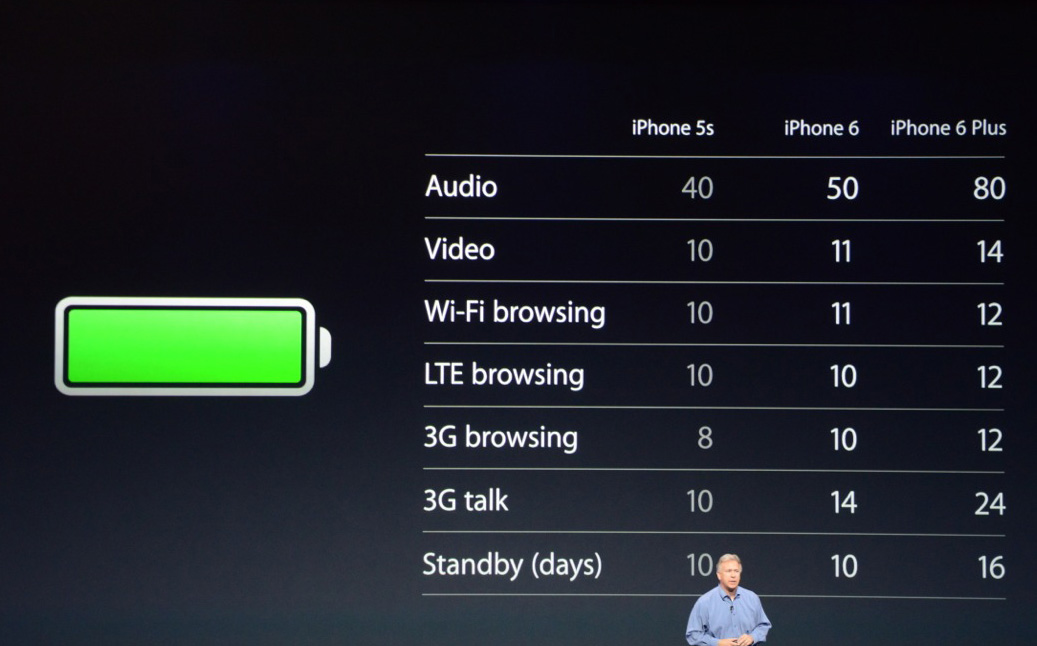 Battery life is reported to be about the same if not slightly better than the iPhone 5S, but I guess we will need to test this out for ourselves. The iPhone 6 is said to have 14 hours of 3G talk-time, and talking of 'talking' the iPhone 6 supports VoLTE (Voice over LTE). The iPhone 6 Plus is said to be capable of 24 hours of 3G talk time.
VoLTE
Voice over LTE is aimed to make your calls sound much better and clearer, and iPhone 6 boasts 3x faster Wi-Fi than last years iPhone 5S. It supports Wi-Fi calling with T-Mobile in the US so far.
Apple M8
The new motion processor, called the M8 can tell the difference between cycling and running, and it can also calculate distance and elevation. Perfect for health and fitness fans.
Camera & Video
As expected the iPhone 6 has an 8MP camera, true-tone flash. 1.5 micron pixels, and a 2.2 aperture. The camera has a phase detection autofocus, which amounts to autofocus that's twice as fast as the last generation of iPhone hadnsets. Panoramas can be up to 43 megapixels now as well.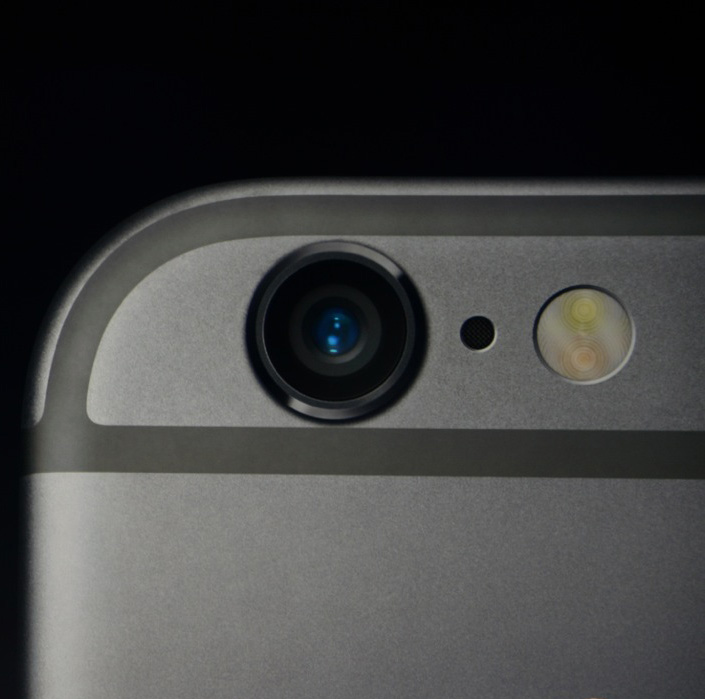 Improvements have been made to face detection and blink detection, as they are said to be much faster. You can also expect the iPhone 6 to sport "digital" image stabilization and video that is capable of 1080P HD at 30fps or 60fps. The best part is that you can run slo-mo at 120FPS or 240FPS That. Is. Really. Slow.
Last but not least here is something for all you selfie fans: There is a front-facing-camera that has a "burst selfies" feature, so you can get that perfect selfie. There's also a new messaging app that lets you quickly send little voice notes along with a health app.
Prices
iPhone 6 handsets start at $199 for the 16GB version, $299 for 32GB and $399 for the 64GB version on a two-year contract. The iPhone 6 will be available for pre-order this Friday, with a launch date of Friday 19th.
iOS 8 is out on Sept 17th.
The iPhone 6 Plus starts at $299 for 16GB, $399 for 64GB, and $499 for 128GB.
Previous iPhones
In relation to the new iPhone launches we will also see price changes to past generation iPhone models. The iPhone 5S is now available at $99, whilst the 8GB version of the iPhone 5C is now free on two-year contracts.
Apple Pay
Another key note to the conference was Apple Pay, which is an entirely new payment process. It uses NFC across the top of the phone and stores payment info securely. You can even take a picture of your own credit card and add it.
If your iPhone is lost, you can suspend all payments via the Find my iPhone service.
"Apple doesn't know what you bought, where you bought it, and how much you bought it for."
You can also use Apple Pay online – Apple offers one-touch check out, you don't have to enter your CC information, or your billing address
Apple Watch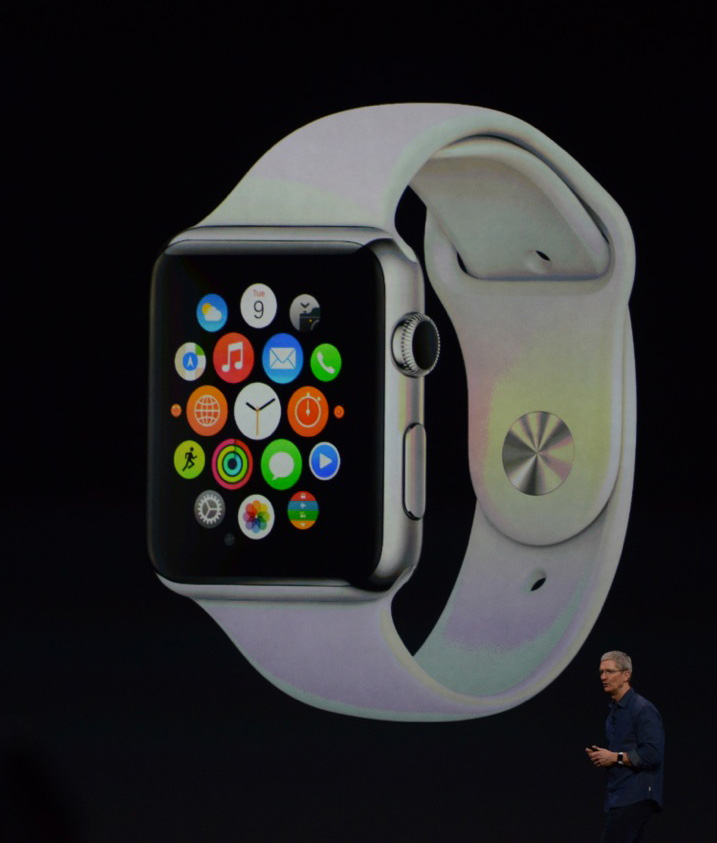 "What we didn't do was take the iPhone and shrink the user interface and strap it on your wrist."
One thing that we weren't 100% sure of was the launch of an iWatch but it did come towards the end of the conference. However it hasn't been labelled as an iWatch. It seems that Apple are moving away from the "i" branding.
The Apple Watch has a square display, which is curved down the edges of the body. It sports a rectangular bezel, and a rectangular screen, with circular UI elements. There's an 18-karat gold version, and plenty of different coloured wrist straps to choose from (6 to be precise). The design itself looks stunning I have to say.
You can zoom in and out on maps by using the crown on the side, which also acts as a Home button, and the watch turns on the display when you raise your wrist.
The screen is made from Sapphire and can tell if you have tapped or pressed the screen, it seems to be much more than just a watch, its a personal communicator that can link up to other Apple Watches.
Three kinds of models: Apple Watch, Apple Watch Sport, and Apple Watch Edition.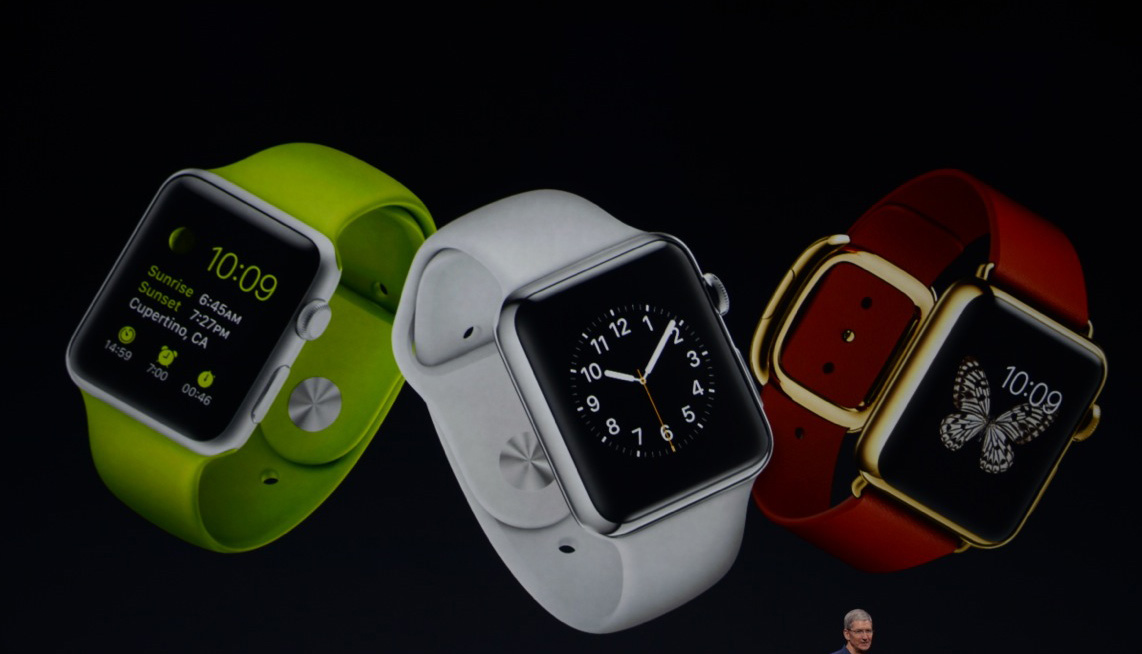 Apple Watch starts at $349 and is available in early 2015.