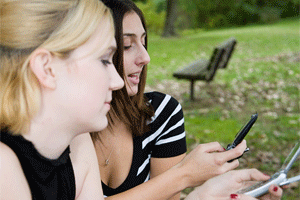 A new report says that teenagers in the United States are now sending more text messages via their new and old cell phones than ever before. Teenagers are sending an average of no less than 60 texts per day, up from an average of 50 just a few years ago back in 2009, the most recent Pew Research Center Internet and American Life Project study on "Teens, Smart-phones and Texting" suggests.
The "most enthusiastic texters" are older teenage girls, the report suggests, with youths aged between 14 and 17 sending an average of 100 per day last year in comparison to 60 in 2009. "Mobile devices increasingly dominate teens' communicative lives," says the author of the report, Amanda Lenhart, a senior research specialist at Pew. "Teens continue to privilege texting, while their use of email, instant messaging and even voice calling has moved to the background."
This is just confirmation of an already established trend, with a Pew report from back in 2010 having shown that the dominant form of communication for the great majority of teenagers was texting. The most recent update shows that 63 percent of teenagers use texting to communicate with the people that they know every single day, surpassing cell phone calls (39 percent), real socializing away from school (35 percent), messaging using social networks (29 percent) and instant messaging (22 percent). Just six percent of teenagers use email for communication purposes every day.